Slip and Fall Lawyers in Mount Laurel, NJ
Personal Injuries After Fall: Slip and Fall Attorneys in Mount Laurel, NJ Explains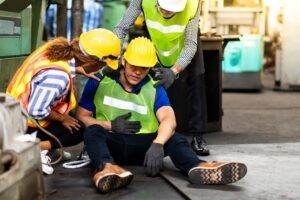 Falls are one of the most common causes of personal injuries. Although most falls may be a minor inconvenience, some falls can cause serious or catastrophic personal injuries. According to the CDC, falls account for nearly half of all traumatic brain injury (TBI)-related hospitalizations. According to the American Association of Neurological Surgeons, falls are also one of the most common causes of spinal cord injuries, including being the top cause for individuals over 65 years old. Our slip and fall lawyers in Mount Laurel, NJ, also know that fall victims can suffer other serious injuries such as broken bones, slipped discs, nerve damage, and other debilitating injuries.
Many times these injuries cause more than just physical or emotional harm. Individuals who are driven to slip, trip, and fall may also suffer serious financial hardships that can impact an entire family. This includes significant medical bills for unexpected treatment, hospital stays, and surgeries, coupled with lost wages from being unable to work. Oftentimes a person's fall injuries could result in the entire family suffering due to a property owner or tenant's negligence. Call Nugent Law to speak with our slip and fall attorneys in Mount Laurel, NJ, for help if you have been injured in a fall.
How Our Personal Injury Team Can Help You
If you or a loved one have been seriously injured, or if a loved one was wrongfully killed, in any type of slip, trip, and fall accident in New Jersey, Nugent law can help you and your family recover the compensation that you may be entitled to under the law. We can help families by doing the following:
● Giving notice of a claim to a landowner, tenant, maintainer, and their insurance carrier
● Obtaining and compiling medical records, surgical reports, and other evaluations
● Hiring medical experts and liability experts to boost your damages claim while establishing liability against a negligent party
● Make a settlement demand to the defendant and the insurance carrier, pushing for a quick, fair, and just resolution for you
● Seek your legal remedies in court if a defendant will not fairly compensation you
● Handle all facets of litigation, including pleadings, discovery, depositions, motion practice, settlement conferences with the judge, and trial
● File an appeal in the rare instance you are aggrieved by a negative outcome in the trial court
● Ensure your settlement, verdict, or award is fully paid for by the responsible party, and
● Answer any other questions you may have during our representation.
Who Could be Responsible for My Slip, Trip, and Fall?
New Jersey law imposes a duty of care on certain individuals and businesses to maintain their premises in a reasonably safe condition under the circumstances. This obligation includes repairing, warning, or making certain safe defects to prevent harm to foreseeable entrants onto the property. Individuals or businesses who fail to do that may be liable under New Jersey law in the event of a fall.
The individuals or entities who may be liable for a slip, trip, and fall accident in New Jersey include the following:
● Property owners
● Tenants
● Maintenance teams
● State, federal, or local government entities
● Property managers
● Contractors that create or enhance the danger
● Cleaning crews, and
● Other individuals, businesses, or government entities exercising control over a premises.
What Are Examples of Slip, Trip, and Falls in New Jersey?
The general rule is that if you were injured on property owned by someone else, you should call our experienced slip and fall lawyers in Mount Laurel, NJ, for a free consultation. Any type of fall injury can result in liability that our team should review and assess whether you have rights under New Jersey law.
Some of the most common examples of slip and fall accidents include the following:
● Wet floors
● Product spills on the floor
● Snowy or icy walkways, steps, or outdoor areas
● Excessive use of soap or wax on the floor
● Bunched up carpeting or ripped carpets
● Debris or garbage on the floor
● Inadequate lighting
● Faulty handrails or broken handrails
● Uneven flooring
● Broken stairs
● Holes in the ground
● Broken flooring, tiles, or other walking surfaces
● Leaky roof or AC unit, and
● Other conditions which may present a slip, trip, and fall hazard.
Ask Our Slip and Fall Lawyers in Mount Laurel, NJ for Help After a Fall
If you or a loved one were seriously injured in any type of accident on the property of another person, business, or government entity, call our experienced slip and fall attorneys at Nugent Law for a FREE consultation. Our bodily injury law firm is dedicated to protecting the rights of individuals and their families in a slip, trip, and fall accident, recovering the compensation you deserve for pain and suffering, medical bills, and lost wages. Learn how we can help you by dialing (856) 596-9770 or by sending us a secured message through our "contact us" box available here.