New Jersey Car Accident Lawyer | Mount Laurel, NJ
Hurt in a Car Wreck? Call Our Auto Accident Lawyer in Mount Laurel, NJ for Help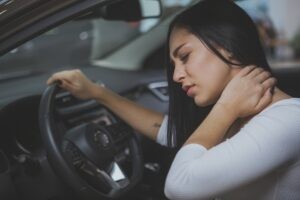 Motor vehicle crashes are one of the leading causes of accidental injuries in the United States.  According to the National Highway and Traffic Safety Administration (NHTSA), approximately 1.9 million injury-causing accidents are reported to the police each year.  Approximately 60,000 of these auto accidents causing injuries occurred in New Jersey, with over 2,500 occurring in just Burlington County, NJ. Sadly, the New Jersey State Police report that almost 600 people die each year from their injuries in New Jersey, with 42 occurring in Burlington County alone. When this happens to innocent people and their families, they need to contact an experienced auto accident lawyer in Mount Laurel, NJ.
With over 35 years of protecting the rights of auto accident victims in New Jersey, Nugent Law is the experienced choice that individuals and their families need after a negligently caused auto accident. Our compassionate and well-trained staff is dedicated to helping New Jersey residents recover the compensation they deserve for pain and suffering, lost wages, medical bills, property damage, and other expenses related to their motor vehicle crash. We offer FREE consultations and have a no-win, no-fee guarantee. Learn how we can help you during a FREE consultation by dialing (856) 596-9775.
How We Can Help You After an Auto Accident in New Jersey
If you have been injured in an auto accident, our bodily injury law firm in Mount Laurel, NJ, can help you and your family in many ways. The most important way is taking the stress of a car crash off of your shoulders and onto ours so you can focus on resting and recovering. We can help you by doing the following:
Submit an insurance claim
Gather your medical records
Work with police and gather the police report, investigation, and any reconstruction efforts
Follow issued traffic tickets and dispositions to defendants
Serve a settlement demand on the insurance carrier or defense lawyer, aggressively seeking compensation for your injuries
Protect your rights in court by filing a lawsuit to seek your legal remedies
Exchange discovery, conduct/defend depositions, and engage in motion practice
Proceed to trial by hiring experts and calling witnesses to prove your claim
Protect your appellate rights by perfecting appeals in the event of an adverse decision
Enforce a judgment against an insurance carrier who is being difficult
Answering your questions along the way to ensure you are well-apprised of what is happening and can make informed decisions about your case.
If you or a loved one were seriously injured in a motor vehicle accident in New Jersey, call our auto accident attorney in Mount Laurel, NJ, for help.
Types of Auto Accidents That We Handle
Many different types of auto accidents could be caused by the reckless, careless, and outright negligent conduct of a motorist. But there are other possible defendants, including the vehicle owner, employers, municipalities, mechanics, and other entities who may be responsible for your injuries. If you are involved in a motor vehicle wreck in New Jersey, we can help you hold those entities liable in any type of crash.
Some of the most common types of auto accidents that we handle include the following:
Trucking wrecks
Motorcycle crashes
Rear-end collisions
Drunk driving accidents or drugged driving accidents
Pedestrian hit-by-car accidents
Bicyclist collisions
Distracted driving accidents especially due to cell phone use
Bus accidents
Rollover crashes
Uber, Lyft, and other ride-sharing accidents
Improper left turn or merging accidents
Highway, interstate, or parkway crashes involving high-speed collisions
Failure to stop at a stop sign or red light
Failure to yield to the right-of-way
SUV accidents, and
Any other type of serious motor vehicle crash in Mount Laurel, NJ.
Schedule Your FREE Consultation if You Were Injured in a Car Wreck: Our Auto Accident Lawyers in Mount Laurel, New Jersey are Standing By
For over 35 years, Nugent Law has been representing victims and their families in Burlington County, Atlantic County, and throughout New Jersey who have been hurt in a personal injury accident. We have the experience and skill necessary to hold negligent parties liable for pain and suffering, medical bills, lost wages, property damages, and other losses due to an auto accident or motor vehicle wreck. Learn how we can help you and your family during a FREE consultation by dialing (856) 596-9770 or sending us a private and confidential message to our "contact us" box available here.